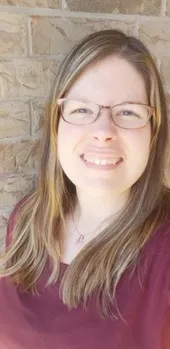 Laura is a Licensed Professional Counselor (LPC), who is passionate about working with individuals who have trauma, anxiety and depression. Graduating from Tarleton State University with a Master of Science in Counseling Psychology, she also has a Bachelor of Science in Agricultural Services and Development and minor in English. She feels that having this non-traditional background helps her connect on a deeper level with her clients.
Laura has worked with foster children for nearly 10 years and worked in community mental health for over 7 years. She has worked directly with those with major depression disorder, bi-polar disorder, schizophrenia, schizoaffective disorder, and numerous other major mental health concerns.
She is passionate about working women and couples that have experienced infertility and unexpected health diagnoses, learning how to navigate doctors, specialists and taking care of their body. Working with those grieving losses is also another passion for Laura.
Laura also has experience with individuals in a mental health crisis (those who are suicidal, homicidal, or psychosis severe enough to cause harm to themselves or others), delicately handling hard situations with grace and compassion. She has experience of assisting with implementing a trauma-informed in community mental health facility, helping staff learn how to serve individuals with a trauma-informed perspective. While at the organization, she also assisted them with obtaining a national certification (CCBHC – Certified Community Behavioral Health) and managed a grant associated with the certification to extend services in the community.
Using a trauma-informed and person-centered approach, Laura will meet the individual where they are in life. Her goal is to empower the individuals she works with, providing them with tools to overcome their difficulties in life. Believing that therapy is a partnership, Laura will help the individual determine goals and then walk alongside side them in their journey to achieve them. She has numerous trainings and experiences, believing that not one theory will solve all the world's problems.
A few of her trainings include CBT (Cognitive Behavioral Therapy), IFS (Internal Family Systems) and Gottman Method (couples and family counseling). Laura is also trained in EMDR (Eye Movement Desensitization and Reprocessing) and is working towards certification, expecting to be fully certified in October 2022. EMDR Therapists require a minimum of 50+ hours to be trained. Certified EMDR therapists require an additional 20+ hours of supervision with an EMDR Consultant, along with several other experiences to meet certification.
She is a CIMHP (Certified Integrative Mental Health Professional), utilizing a holistic and natural approach, looking at the mind-body approach and how our diet and lifestyle affect our mental health. Laura is currently working through several holistic trainings, to provide a more thorough holistic approach to her individuals.
Laura currently lives in Granbury with her husband and dogs, Moose and Luka. With a love for traveling, she has traveled to Ukraine and worked with orphans, along with a mission trip to Panama City, Panama. Laura enjoys trying new food and different adventures with her husband. She is always wanting to learn and experience new things, allowing her to have a broader perspective on life.