Supervision for Licensed Professional Counselor Interns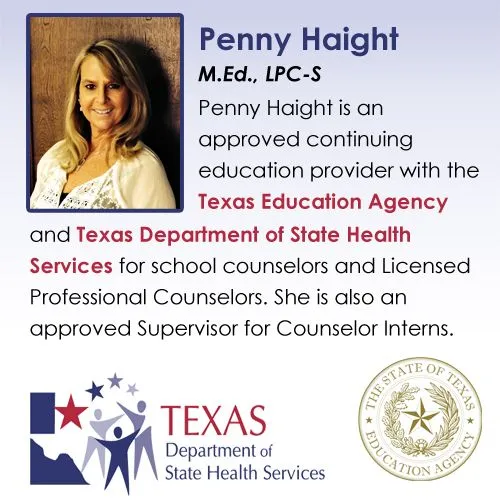 Supervisor: Penny Haight 63788
Location: 4545 Bellaire Dr. S. Ste.6 Fort Worth, Texas 76109
Group Supervision Tuesday at 5:00 p.m.
Supervision Rates Schedule a consultation online or call 817-657-1115
Group $35.00 (3 or more interns)
Dyad $50.00 (2 interns - counts as individual)
Individual $100.00 (One on One)
We have a group of 5 interns that meet on Tuesday at 5:00 p.m.
Penny's primarily theoretical orientation is cognitive behavior therapy and solution focused.
The group members will benefit from Penny's extensive experience with trauma survivors, couples, children, and issues of anxiety, depression, and grief—as well as her familiarity with both cognitive and nonverbal healing avenues (expressive arts, biofeedback, sand tray therapy, and mindfulness.
Penny is a former school counselor and she understands the framework of Guidance and Counseling programs as well as what it takes to design a program to assist in improving academic achievement.